CALENDAR
2021- ongoing: LAUNCH OF RE– interdisciplinary art- and research project of plastic use.Site during year 2022: Solna Business Park, Svetsarvägen 10  & Smidesvägen 6
28 April – ongoing: Become a Plastic donor, register online
28 April – ongoing: The Global Bank Of Commons -presenting the Plastic bullion and a reevaluation of plastic.
28 April – ongoing: "Dive", Svetsarvägen 10
28 April – ongoing: Exhibition "Constant Fusion" sculptures and installations by Guestartist: Amanuelabiy Abraham, Svetsarvägen 10 and Smidesvägen 6
28 April – ongoing: The RE:STORE– an alternative recycling station for plastic, open every Wednesday 16.30-19.00, Smidesvägen 6
1 Jan – ongoing: Interviews with experts
21 Dec 2021- ongoing: Exhibition extended "and free we are", Photographies by Karen Froede, Svetsarvägen 10
Monthly reports and blogging on LAUNCH OF REs digital sites.
LAUNCH OF RE: phase 1- RE:FLECTION
December 22 2021 until autumn 2022.
LAUNCH OF RE: includes both psychological, philosophical and physical aspects regarding plastic and its use. Plastic being one of the most tangible residues of human consumption.
LAUNCH OF RE: is currently in Phase 1, called RE:FLECTION. As the name indicates, the first step of LAUNCH OF RE:, aims to gather information and get a deeper understanding of the contemporary situation regarding plastic and its use. Phase 1 will generate art works in the shape of exhibitions, interviews with experts, sound- and video work, artistic interventions, book-releases.
Read more under: About.
Become a Plastic donor
April 1st to September15th.
LAUNCH OF RE: is currently looking for 40 plastic-donators.We are looking for 20 persons/families and 20 companies/associations/institutions. The donated plastic will be registered, analyzed and transformed into art.
For more information, please contact: Karen Froede, LAUNCH OF RE: Mobile: 0735-45 45 30 or
Åsa Lindholm, FABEGE: 073-387 18 65.
Read more under: Become a plastic donor
Plastic- the bullion of the century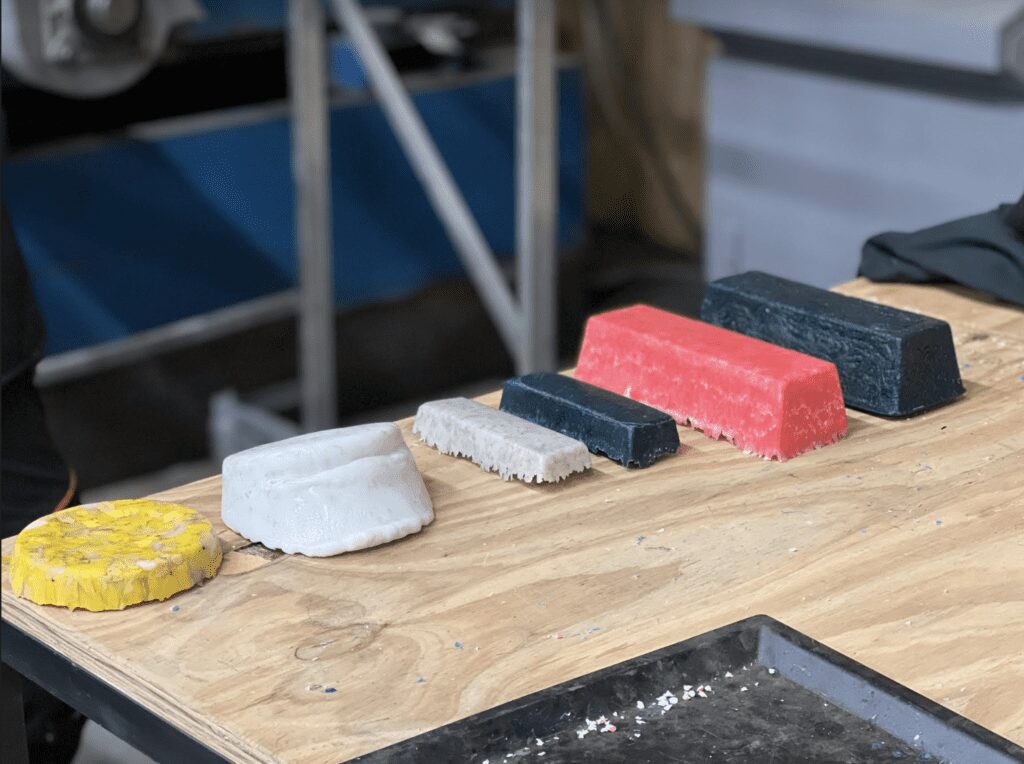 April 21 2022 and further on
The reevaluation of plastic is currently in progress.
With expertise from Sotenäs Marine Recyclingcentre, LAUNCH OF RE has now produced plastic bullion prototypes of pure mono material classified in eight color categories. The Global Bank of Plastic will soon start building up its plastic reserve.
The 5´th of May the very first plastic bullion will be handed over to Prince Albert II of Monaco.
Read more under: Upcoming
"AND FREE WE ARE" PHOTO EXHIBIT
28 April until October 15
"and free we are", Photographies by Karen Froede
What choice do we have but to squeeze ourselves into a cube having our naked portrait being taken and mounted onto a board- fully integrated and inseparable with the symbolic matter of mass consumption- namely plastic? What choice do we have but letting our soul get caught imprinted in plastic for, what a fast moving world would call, an eternity.
"and free they are" is framing the chimera of western neoliberalism. An independence within monetary limits.